Enter to win two of your very own personalized Adorable Robot characters. I'll draw them (by hand) just for you. The art will be yours to keep.
Easy to get in, easy to win:

Simply add your name and email into the following form and you'll be entered into all future drawings that I do for these characters. Lots more details below...
Winners will get not just one, but two "Adorable Robots" tailored to their desires
I will create two different characters for you based on a few defining characteristics that you will choose. These things can include hairstyles, props being held, clothing, uniforms, work related items, ethnicity symbols, etc. Adorable Robots are even cuter when there is more than one of them together, so I've decided to do these giveaways in pairs.
Want to meet the "Adorable Robot" gang?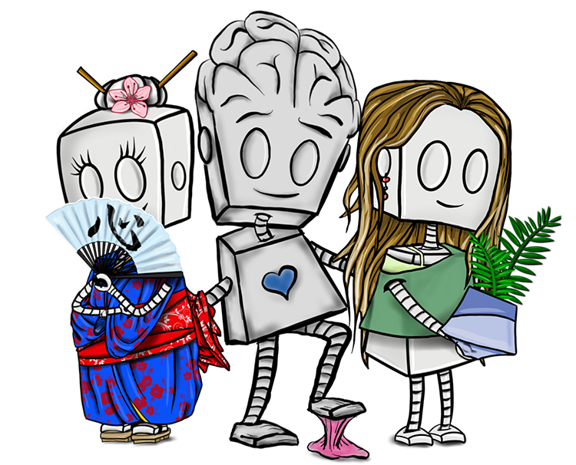 Digital files of the finished work
When I am finished, I will send you digital files of your finished artwork. These will include one .JPG against a nice dark background, and a transparent .PNG file that you can put on your own backgrounds if you'd like. You may use these images or print them to your heart's delight, so long as its for non-commercial personal use.
How it works if you win...
If your name is drawn (and I do drawings often), I will send you an email to inform you of it and to start the custom artwork process.
You just reply back to me with answers to the handful of questions that I send you (such as what you want your characters to hold, wear, etc), and then let me take care of the rest.
Within 2-4 weeks (depending on my single dad schedule), I'll get the drawings done (they are hand-drawn on my iPad) and send you the files.
Part of the "Adorable Robots" collection
One of the reasons I am doing this contest is to organically grow the "Adorable Robots" collection here in my shop to include all sorts of people and personality types that I might not otherwise think of drawing. It is a collection loved by many, and if your finished robot characters fit in with the rest of the "Adorable Robot" clan, I will be creating stickers, art prints, and possibly other products with them as the stars.
A $400 custom art project
I generally charge my clients about $200 to draw this type of illustration, and I'm going to be drawing two of them for you. Win win! I get to create art that I love creating, and you get to receive art that means something special to you.
1) You've gotta subscribe via the forms above and stay subscribed to win. If you unsubscribe from my mailing list, you will no longer be eligible for the drawing. So long as you remain subscribed, you will be entered into every future drawing I have for these custom "Adorable Robots."

2) After I contact you to let you know that you won (if your name is drawn), you will have 72 hours to reply and get me what I need. If I don't hear back from you, I will pick a new winner and you will lose out on the opportunity. So use an email address that you check often!
3) I will own all the copyrights to this artwork and I may use it (or I may not) to create products, advertise, run promotions, etc. You can use the images for your personal use, but you may not let other people use them and you may not use them in any commercial way.
4) If your name is drawn, I will be using your name to announce that you have won both on the website and shouted out on the mailing list. It's important to me that people know that I am actually following through with this drawing (no pun intended).
5) You, of course, may opt out of the mailing list at any time. Just click the unsubscribe link at the bottom of any email you receive.
6) When you subscribe, you will receive my sticker of the day emails (always with a "buy that sticker choose any other sticker BOGO), announcement emails, promotional emails, etc. The only mailing list you must remain subscribed to in order to win is this one.
7) The frequency of the drawing will simply depend on how many people are subscribing to the mailing list. At minimum, I will do a drawing every eight weeks, but hopefully closer to every four weeks. There will be one winner per drawing. Unless I'm in the mood to do two. Then there might be two.
8) If this contest is proving to not be worth the effort, I reserve the right to cancel the drawings and inform you of such through email so that you can decide if you still want to be subscribed. I'm all about transparency around here.
Good luck! I hope you win. And don't feel weird that you're already planning what you want me to draw. Everyone else probably is, too.